I'm not sure if it's the photographer, romantic, tourist or Dora the Explorer in me but I have a never-ending list of places I'm itching to visit. Depending on the mood I'm in the list ranges from secluded islands like Barbuda (a Caribbean island with a population under 2,000 people) to Mumbai, the most populous city in India. Although I can't seem to decide where I should visit first there are a few places that are constantly at the top of my list.
The island of Santorini, although the most popular island in Greece, is definitely one of the places I dream about. The breathtaking views of the deep blue sea, beautiful golden light and gorgeous white washed buildings are calling my name (as well as millions of other people. But still). In the meantime I enjoy Mediterranean-ish food as often as I can and secretly plan my wardrobe for my Greek getaway.
This hummus-kale-avocado-artichoke wrap includes so much goodness it deserves to be brought up in this conversation. Artichokes and cucumbers provide valuable antioxidant (Vitamin C & E) and anti-inflammatory benefits, both of which we need for a strong defense against disease. Although this fruit (cucumber) and vegetable (artichoke) are called for in moderate amounts in this recipe I always go crazy with everything including the red onion, kale and hummus.
Eventually you might find yourself adding so much cucumber, kale, avocado and artichokes in the wrap that it might rip and your meal will turn into a Mediterranean inspired bowl (happens to me all the time). No worries though, it'll be just as amazing as a neatly packaged wrap, if not more.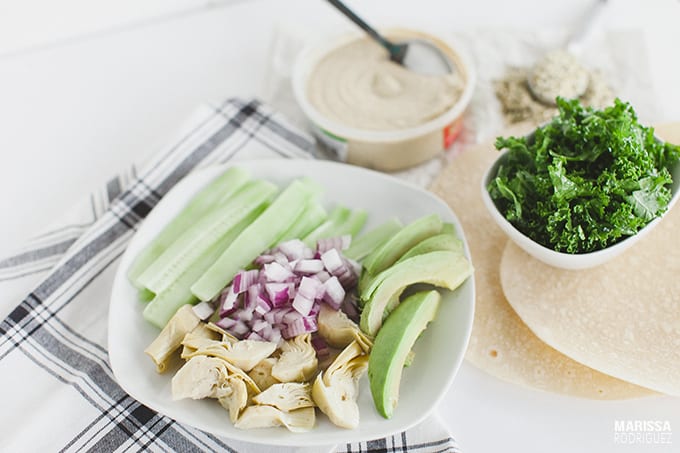 HEALTHY HUMMUS KALE AVOCADO WRAP
Author:
Marissa Rodriguez
Recipe type:
Lunch, Dinner
Cuisine:
Mediterranean, Vegan
Ingredients
½ cup kale. Washed, stem removed and thinly sliced.
1 teaspoon olive oil.
1 cucumber. Peeled and sliced.
½ cup artichoke hearts. Cut in halves & drained.
½ avocado, thinly sliced
¼ cup red onion, diced
3 tablespoons hemp seeds.
2 tablespoons hummus (store bought is great, just make sure it doesn't include nasty ingredients).
Tortilla wrap (opt for rice wrap or whole wheat).
Salt & pepper to taste.
Instructions
Massage ½ cup kale with 1 teaspoon olive oil and a dash of salt.
Warm tortilla on stove.
When ready spread 1-tablespoon hummus on tortilla.
Assemble wrap with all ingredients and top with hemp seeds.
Notes: If making the night before, pack tortillas separately so they don't get soggy and assemble right before enjoying.
Let me know if you plan to try these easy delicious wraps… or if you've visited Greece!