When I started running I spent a lot of time (and money) researching and trying different pre-workout powders, potions and pills to help me, you know, run and stuff. Most of them made me feel like I could happily bounce off walls only to find myself trying to prevent a serious face plant a few hours later (face plant= hitting the floor face first, justincaseyoudidn'tknow).
Instead of dealing with caffeine related withdrawals I should have simply looked to the Aztecs and Mayans because well, it just sounds cool right? But really, I'm fascinated with the fact that chia seeds were an important component of their diets. They used these tiny seeds for increased stamina and energy over long periods of time and the word chia even comes from the Mayan word "strength" or "strengthening."
So if an Aztec warrior used these little guys for endurance then they are definitely good enough for my short and stubby frame. I've slowly replaced my concoction of pre-workout powders with more natural options like chia seeds and fruit and I find that the face planting urges are non existent (unless it's after a marathon of course). Mango and coconut milk make this sweet and creamy chia pudding seriously addicting and a great option for breakfast or a pre workout meal. You'll feel full, energized and you might secretly imagine yourself as some kind of ancient warrior while enjoying this snack.
Either way, warrior or not, this coconut mango combination is delicious and so easy to make it's definitely a must try!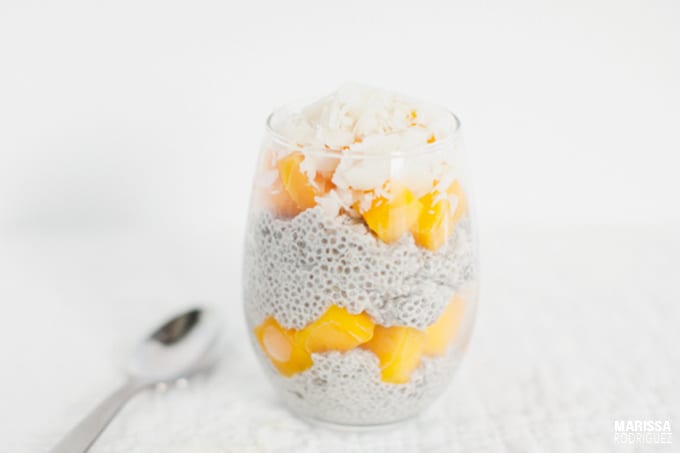 Easy Coconut Mango Pudding
Ingredients
3

tablespoons

chia seeds

½

cup

coconut milk

½

cup

water

2- 3

tablespoons

maple syrup

1

teaspoon

vanilla extract

optional

½- 1

mango

cubed or sliced

1

tablespoons

coconut flakes
Instructions
Place 3 Tablespoons chia, ½ cup coconut milk, ½ water, 2-3 tablespoons maple syrup, 1 teaspoon vanilla extract in a small mixing bowl or jar. Mix well and let sit for 10 minutes or overnight. (Note: the chia may start to clump so be sure to mix well. You can also cover jar or container and shake.)

When ready to serve (or you can prepare overnight after letting the chia and water mixture soak for 10 minutes), layer with mango slices and top with coconut flakes. Enjoy!
Will you be trying this easy mango-coconut pudding recipe? Let me know if you added extra mango, I always do. It's the best part!