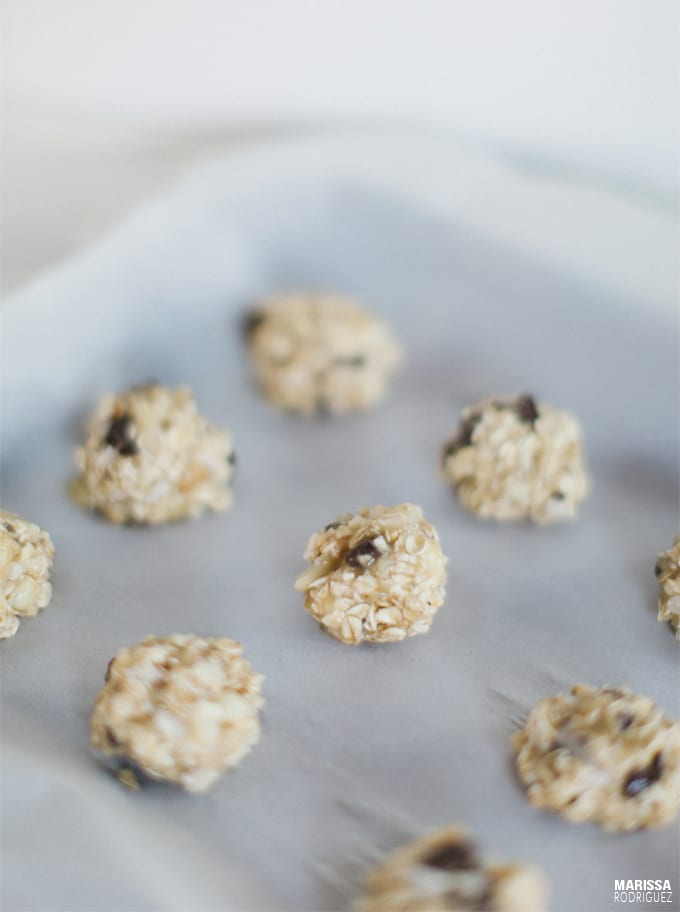 I used to feel like a horrible person when I would let a bundle of bananas sit on my counter for too long and brown spots would develop on their beautiful yellow jackets. And as I munched on my store bought cookies I'd throw out the bananas and promise myself to use them next time, for sure.
Although I still let the bananas sit on the counter for "too long", I don't throw them out anymore. Bananas are easier to digest when they are ripe so if you've ever experienced some bloating or gas after eating a banana it may have been because it wasn't ripe enough. As bananas ripen they also get much sweeter, which makes them perfect for baking home made cookies while tossing the store bought cookies in the trash.
So instead of thinking of the brown spots as ew, let's just pretend ripe bananas are wearing faux leopard print jackets yes? It'll be better for your stomach and for the taste of your cookies. And the chocolate chips, macadamia nuts and coconut flakes that you mix in (but don't have to) will take these banana oatmeal cookies from yummy to fabulous.
Basically these cookies are the reason you'll never need to throw out another ripe banana again.
EASY BANANA OATMEAL COOKIES
Author:
Marissa Rodriguez
Recipe type:
Snack, Breakfast
Ingredients
2 ripe bananas
1 cup old fashioned oats
vegan chocolate chips (optional)
2 tablespoons chopped macadamia nuts (optional)
2 tablespoons coconut flakes (optional)
Instructions
Preheat oven to 350 degrees and line a cookie sheet with parchment paper.
In a medium mixing bowl and using a fork smash 1 cup of oats with the ripe bananas until the two are evenly mixed.
Add chocolate chips, macadamia nuts and coconut flakes and mix well.
Scoop out a spoonsful of mixture, form a circle with your hand and place on the lined cookie sheet.
Use the rest of the mixture to make 10-12 circles and place on the cookie sheet.
Bake for about 15 minutes and serve warm (best when served warm but can also be stored for the next day). Enjoy!
If you made this recipe with only bananas and oatmeal (which I love and make all the time!) what did you think? And what's the one food that sits on your counter or fridge for too long and then you end up having to throw it out?