I'm not shy about the fact that I purposely spent most of my life (teenage years and early adulthood included) developing the fine art of avoiding the kitchen. I didn't mind spending extra time on homework (or faking a stomach ache) to get away from helping my mother make dinner. I'm sure she noticed early on that I was a temporary lost cause so I was assigned a basic, non cooking related task: to sort through dried beans.
So I'd happily sort through the piles of beans and remove the broken parts, pebbles or grit from the beans that would later be cooked. I never stuck around long enough to know what to do with them once they were sorted but I remember that my mother always had some kind of delicious bean soup or dish on the stove. And now here I am spending too much time in my kitchen and posting recipes on the Internet, how's that for ironic?
All types of beans are still a staple in my diet, and not just because I finally learned to cook them or because I'm Mexican, but also because I'm vegan and they are a powerful source of plant-based protein. Beans (frijoles, legumes, pulses, whatever you want to call them) are high in fiber, blood sugar balancing, protein packed and a key food to prevent disease and optimize health. The United Nations declared 2016 as the international year of the pulses (beans, lentils and peas), which is obviously great, but I can't help but think my mother and the entire Latin population (along with many other cultures) may have been ahead of the game in recognizing the amazing benefits of these little guys a long time ago.
This easy, flavorful and spicy black bean chili bowl is a perfect way to celebrate legumes even if you're short on time since it's made with canned black beans. And whether or not you have a little bean sorter helper by your side or you're the one trying to make friends with your kitchen this bowl is a yummy place to start.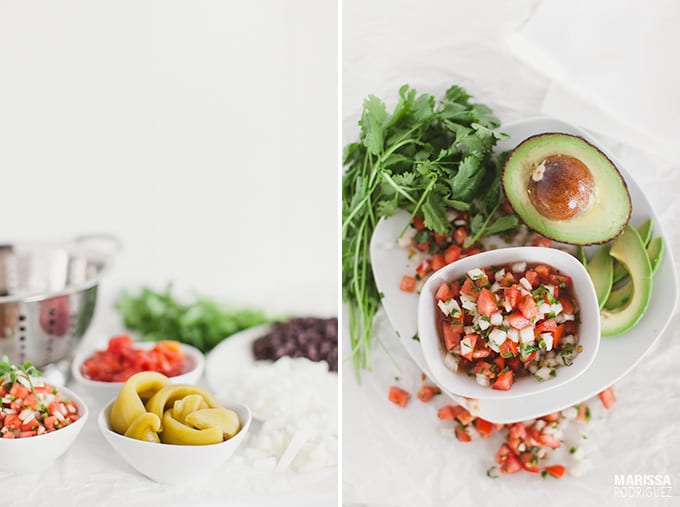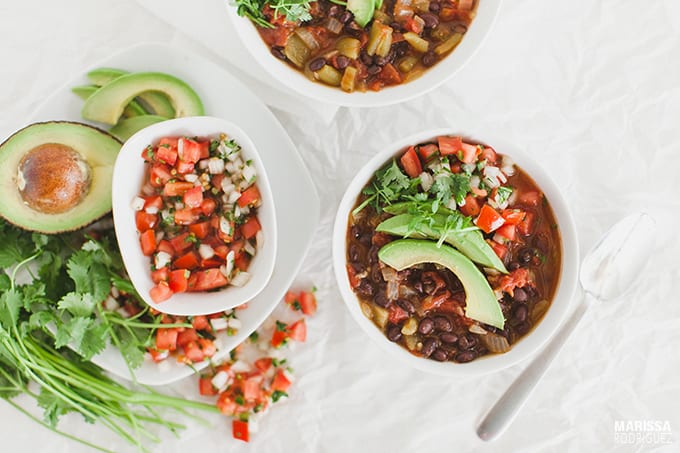 VEGAN BLACK BEAN CHILI BOWL
Author:
Marissa Rodriguez
Ingredients
2 (15oz) cans black beans, drained & rinsed
1 (15oz) can diced tomatoes
1 (15oz) can green chiles, drained & diced
1-2 chipotle peppers in adobo, diced
1 tablespoon olive oil
1 medium white onion, diced
3 garlic gloves
16 oz water (2 cups)
2 teaspoons ground (or whole) cumin
2 teaspoons dried oregano
½- 1 teaspoon chili powder
½ teaspoon salt
Optional (but recommended) toppings: cilantro, avocado & fresh salsa!
Instructions
Heat oil in large saucepan on medium heat, add onion & garlic and saute for a few minutes.
Add 2 cups water, rinsed black beans, 1 can diced tomatoes, 1 can diced green chiles, diced chipotle peppers, 2 teaspoons cumin, 2 teaspoons oregano, chili powder, ½ teaspoon salt and stir to combine.
Bring to a boil then reduce heat to medium-low and simmer for at least 10 minutes.
Season with salt to taste. Serve with recommended toppings.
Notes: This is spicy! So if you're not a "spiced-up" fan, use 1 chipotle pepper instead of 2
and skip the chili powder.
Tip: Definitely a must-try with recommended toppings!
Have you always enjoyed all types of beans or are you just getting started? Let me know if you make this recipe and don't forget the toppings, so good!