If you've ever wished you could chew your smoothies instead of gulp them down in 2.5 seconds then a smoothie BOWL is your new best friend. Or your new frenemy. Like, *hair flip* totally.
I know, I know. I don't know why I feel the need to speak Cher every once in a while. Give me a break, sometimes it feels like the only way to make my point. Not like there's over a million words in the English language or anything…
Anyway, back to you and smoothie bowls being frenemies. You see, you'll love them since they're a nice break from regular smoothies because of the texture and fun toppings you can add. But then you'll hate them because you might become addicted to making endless combinations of said bowls just so you can add the fun toppings, take a picture, post on Instagram and then devour in 5 seconds. Don't say I didn't warn you.
Now that you've been given fair warning, let's make this sweet, creamy, antioxidant rich, delicious acai smoothie bowl with optional oats for added texture and thickness.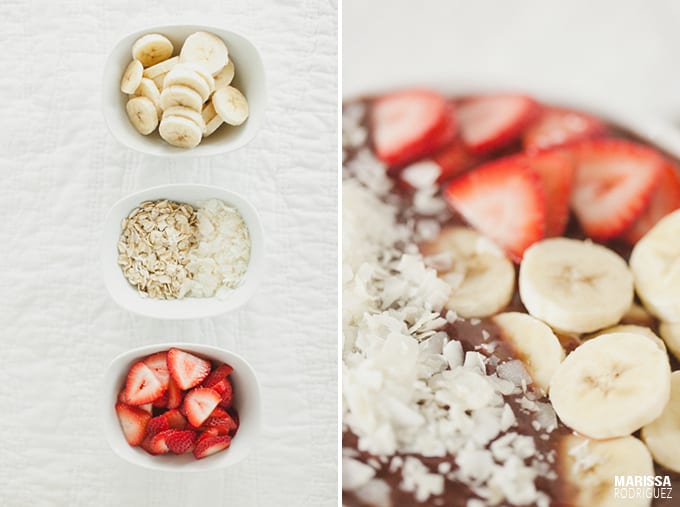 ACAI, STRAWBERRY & BANANA SMOOTHIE BOWL
Ingredients
2

frozen acai packets

1

frozen banana

1

cup

strawberries

1

cup

water

a few slices of fresh banana for topping

a few extra slices of strawberries for topping

small handful of coconut flakes

optional: 1 more cup of frozen fruit to thicken if necessary

optional: ¼ rolled oats
Instructions
Place 2 frozen acai packets, 1 frozen banana, 1 cup strawberries, 1/4 rolled oats and 1 cup of water in a high speed blender and blend.

Add ½- 1 cup of additional frozen fruit to thicken smoothie bowl if needed and blend.

Serve in bowls and top with a few slices of banana, strawberries and coconut flakes. Enjoy!