I spend an embarrassing amount of time watching videos of fat, cute, fluffy and adorable animals (particularly kittens and puppies). You do it do? Fantastic, let's be friends. Ok, well you know that feeling you get when you watch a kitten play with a ball of yarn and it clumsily falls on its side? Or when you watch a puppy yawn while taking a nap and YOUJUSTWANTTOEXPLODE!?
Ok, now multiply those feelings by a gazillion trillion….
That, plus a billion more of THAT, is what I felt when we got to spend a day with an elephant family at the Elephant Jungle Sanctuary in Chiang Mai. I have no story, no words, no silly thing that happened like my other Thailand posts because I can't. I cannot.
I am not capable of describing this powerful, beyond amazing and most incredible experience.
Even now, just thinking about the moment I saw them for the first time… when I saw Peter (the two year old "baby" elephant) run towards us after spotting loads of bananas in our hands… when the four year old "teenager" elephant gave me a hug and I couldn't handle the cuteness… when I got to stand in silence with the fifty four year old pregnant mama elephant… when I jumped in a disgusting puddle of mud to give them mud baths, worth it… when I semi-overcame my fear of rocks and water to bathe with Peter and his family in a refreshing river in the jungles of Chiang Mai…when I silently cried while splashing water with the massive gentle creatures because one day I will roam the jungles with them… and the moment I turned to look at Eddie and noticed him looking at me instead of the elephants with that smile he makes when he finds pure joy in making my dreams come true… Even now, just thinking about those moments, I just can't. No words or photos will ever be good enough for the beauty and power we got to experience. So as I wipe my tears (seriously, I'm crying now), here are some of the photos I managed to capture that day… looking back, I don't remember taking most of these I was simply in complete awe and even forgot how to turn on my camera at one point.

This is Peter, the baby of the family…
The pregnant mama elephant… I learned that elephants have a TWO YEAR pregnancy…
Baby Peter (age 2) and the "teenager" (age 4)…
I fell in love with this little guy…
On our way to a mud bath…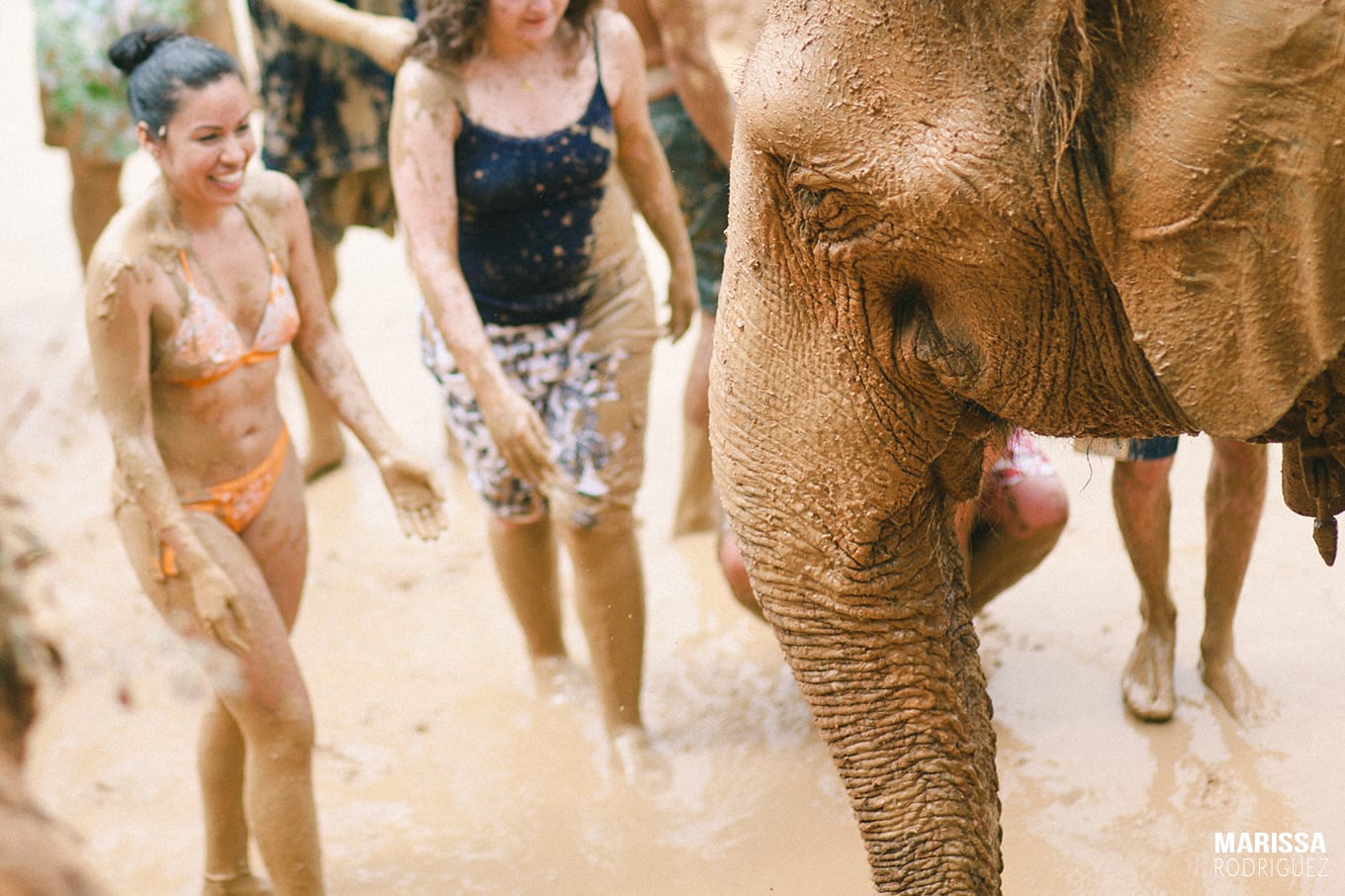 I'm terrified when running water and slippery rocks are combined but bathing in the river with them was non-negotiable, I had to do it!
Now that I've composed myself, kinda', and you most likely feel the urge to plan a trip to visit these amazing animals I encourage you to do your research. The Internet and many hotels in Thailand are plastered with cool photos of tourists riding elephants so it's obviously one of the first things that most people think of when planning their trip to Thailand (and of course it sounds awesome, I get it). What isn't plastered on those beautiful photos of people riding elephants is the disturbing reality of the popular activity. Here are some links you might find helpful in deciding whether or not you want to ride an elephant in Thailand….
IF YOU LOVE ELEPHANTS DON'T EVER RIDE THEM. HERE'S WHY by The Dodo
WHY YOU SHOULDN'T RIDE ELEPHANTS IN THAILAND by The Expert Vagabond
BABY ELEPHANT TORTURED INTO SUBMISSION by Brent Lewin
THE ETHICAL ELEPHANT EXPERIENCE by Adore Animals
And if you're wondering about Tiger Temple, please check out these links below…
THINK TWICE BEFORE VISITING TIGER TEMPLE by Turner Barr
THE TRUTH BEHIND THE MASK by Care For The Wild
FAUX SANCTUARIES and by Right Tourism
TIGER TEMPLE REPORT by Care For The Wild

WHERE TO SEE ELEPHANTS IN THAILAND
The best part about NOT riding elephants in Thailand is that there are still amazing (and even BETTER) ways to interact with and enjoy these beautiful creatures; the Elephant Jungle Sanctuary is proof. A few other places we looked up and would support (but due to lack of time couldn't visit) are listed below. These organizations work to offer sanctuary to abused Asian elephants and provide them with the freedom and happiness they deserve.
BOON LOTT'S ELEPHANT SANCTUARY
And more great organizations…
THE ELEPHANT CONSERVATION NETWORK